Double Mitre Saw LJZ2-500 X 4200(5000)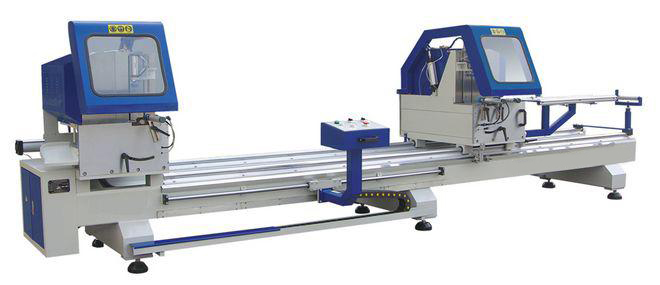 Features:
Used for cutting PVC profiles and aluminum profile.
Two heads work independently or together.
Cutting angle: 90, 45, 67.5(22.5) degree
Uniform speed feeding and smooth motion due to air-draulic damping cylinder.
Saw blade feeding system adopts imported linear guide pair, with high accuracy and smooth working.
Automatic protecting guards result convenience and safety.
Technical Parameters:
Input voltage: 380V/50Hz
Input Power: 4.5Kw
Air pressure: 0.5~0.8MPa
Air consumption: 200L/min
Motor rotation speed: 2800r/min
Cutting length : 360~4200mm(360~5000mm)
Cutting width: 10~130mm
Cutting height: 10~300mm
Saw feeding speed: 0~3m/min
Saw blade diameter: 500mm
Overall dimension: 5500*1700*1600mm; 6300*1700*1600mm