CNC Double Mitre Saw LJZ2-CNC-500X4200(5000)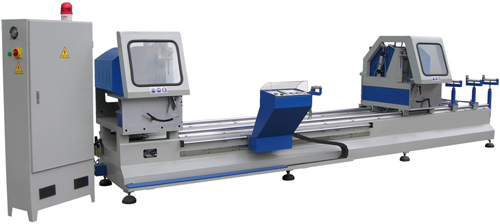 Features:
Used for profiles such as aluminum profile and curtain wall.
Cutting angle:s: 90°, 45°, and 67.5(22.5)°.
Cutting dimension controlled by screw, with high accurate driving and locating.
Right head can achieve the setting location automatically. Right head feed the profiles automatically.
Imported CNC system adopted, which includes PLC, touched screen, servomotor, and servodriver,
photoelectrical switch, and photoelectrical cells etc.
Air-draulic damping cylinder ensures uniform speed feeding and smooth motion.
Saw blade feeding system adopts imported linear guide kinematic pair ensures high accuracy.
Automatic protecting guards ensures convenience and safety.
Technical Parameters:
Input voltage: 380V/50Hz
Input Power: 6Kw
Air pressure: 0.5~0.8MPa
Air consumption: 200L/min
Motor rotation speed: 2800r/min
Cutting length : 360~4200mm; (360~5000mm)
Cutting width: 10~130mm
Cutting height: 10~300mm
Saw feeding speed: 0~3m/min
Saw blade diameter: 500mm
Overall dimension: 5500*1700*1600mm; 6300*1700*1600mm