Multi-function End Milling Machine for curtian wall material GM-313G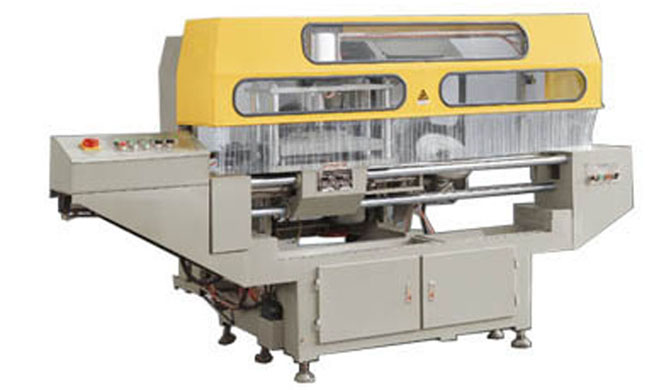 Introduction:
Adopted particular structure of triangular cylindrical sliding track, for high strength and rigidity.
Move smoothly, stepless speed adjusting available, no creeping, the blade retract quickly,
save non-production time.Operate easily, adjust size accurately, milling precision≤0.1mm.
With 6 pieces of milling cutters to mill out right tenon one time.6 pieces of milling cutters are
installed in shafts of 5 main electromotors, capable of front-rear and up-down adjustment
according to processing requirements. Among them, 4 pieces of cutters accomplish
processing horizontal tenons, one for vertically cutting and the 6th cutter for 0-45-degree
positive/negative angle cutting. Five motors of this milling machine can be started independently,
so you can choose working motor(s) according to tenon requirements.Big-area worktable,
6-8 pieces of profiles can be processed simultaneously for high efficiency and batch production.
It is capable of milling 38-90 series window materials, heat insulation materials and curtain wall materials.
Automatic pneumatic spray mist blade lubrication coolant system. Utilizes big sealing protective cover
to prevent deadheads from flying around.
MAIN TECHNIQUE PARAMETER:

1. Power supply…........................................380V/50Hz
2. Total power of motor………………………3×2.2KW+2X1.1KW=8.8KW
3. Operation air pressure……………………0.6-0.8Mpa(adjustable)
4. Main shaft rotation speed………………...2840r/min
5. End plane cutting depth and height……..0-80mm(depth) vertical height 120mm
6. Cutter dimension…………………………..φ250×φ50×6.5mm
…………………………..φ300×φ30×3.2mm
………………................φ350×φ30×3.2mm
7. Worktable dimension (LxW) ……………...505×330mm
8. Milling travel……………………….............1400mm
9. Overall dimension (LxWxH) ……………….3000×1100×1650mm
10. Weight……………………………………...1800KG